Airport Car Rental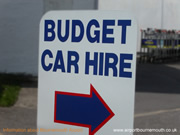 Although most car hire companies strive to give their customers the best possible service they can, it always pays to be aware of potential problems so that you can avoid them completely.

Many car rental companies try to limit the number of miles their cars are driven per day to prolong the life of the cars in their fleet. They do this by quoting a hire price that has a distance restriction - in other words, you can keep the car for the amount of time you need it for, but if you drive it a longer distance than the car rental company's quote allows for, you will have to pay an additional amount when you return the car. This is why the company will ask where the car will be driven to - they try to calculate a quote that is as close to the accurate amount as possible. Make sure you are clear about your planned destinations and that you allow for additional mileage just in case.

Upon collection of the car, take a close look at the interior and exterior of the vehicle. Check for scratches, dents or faults and mention them to the hire consultant before you leave their premises. If you think it is necessary, take photos of any damage you see. If the car is returned with any damage the car hire company will likely make you pay for repairs - you don't want to be caught in a scam or be forced to pay for the previous user's carelessness.